High Impact OASIS Items Competency Test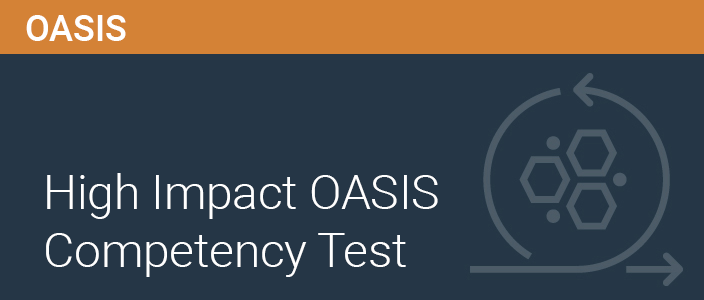 Welcome to our High Impact OASIS Items Competency Test.
This 38 question targeted test was created by a team of OASIS experts and leaders in the industry as a key indicator of OASIS competency for a key subset of the data set most aligned with the impact on PDGM, HHVBP and outcomes. With the upcoming national expansion toward Value Based Purchasing in Home Health, a high focus on OASIS competence, especially with key M-items, is vital to agency success in the model.
In this test, you will be exposed to scenarios found with patients in the home. With the scenario description, you will be asked to answer one or more key OASIS items.
There is no pass/fail score for this test. Your participation in this exam is a foundational step to improving your OASIS Competence. You can expect to learn along the way.
After your test has been submitted, you will immediately receive your results and the rationale for each correct answer. This will help you to remember that detail more clearly to apply to your successful use of the OASIS data set. You will also be able to view which items you found the most challenging in order to revisit education in that area.
**WellSky provides agencies with the option for test analysis and provision of layered education for each individual clinician driving the agency cumulative competency to excellence. To learn more about our OASIS Excellence Package Options contact us at learning@WellSky.com**
The WellSky Learning Center requires an up-to-date web browser and supports the current versions of
Google Chrome
,
Mozilla Firefox
or
Microsoft EDGE
.
Internet Connection: 15mbs Download or Better
Exceptions in Pop-Up Blocker for https://learning.wellsky.com