Hospice - Meeting Patient Needs Without Breaking the Rules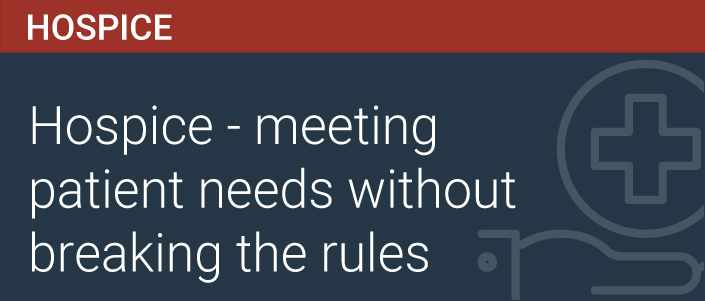 In this course, you will learn hospice regulations and the required documentation for each level of care. Then you will examine real scenarios at each level of care to further your understanding and identify potential barriers. 
Katie is certified by the Health Care Compliance Association in health care compliance and health care privacy compliance. She has been working in the hospice, home health, private duty, and palliative care industries for 24 years and has held executive level positions in these arenas. Katie has worked for hospices in a variety of settings, including multiple locations in multiple states, a hospice inpatient unit, pediatric hospice, and adult and pediatric palliative care. In addition, Katie has an extensive background in health care regulation and accreditation standards interpretation; compliance and quality assessment; performance improvement; and opening and expanding sites for both home health and hospice organizations. Katie is currently the Hospice Liaison for the Indiana Association for Home & Hospice Care (IAHHC) and the National Association for Home Care & Hospice (NAHC). She has been consulting in these areas since 2009.
The WellSky Learning Center requires an up-to-date web browser and supports the current versions of
Google Chrome
,
Mozilla Firefox
,
Microsoft EDGE
and
Internet Explorer 11
.
Internet Connection: 15mbs Download or Better
Exceptions in Pop-Up Blocker for https://academy.fazzi.com and https://learning.wellsky.com
Purchase one seat for each site using the course. Your agency will be provided one login to access the course with. For completion reporting, please view the seat version of the course. Following your purchase, access your training from your MyHome Dashboard in the Learning Center.