Home Health Therapy Orientation Program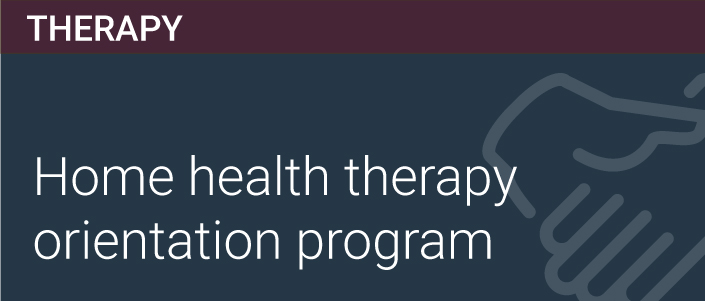 Train your home health therapy staff at your convenience with our complete Therapy Orientation Training Program Package. Package includes trainings on the most important home health therapy topics divided into four training modules, including:

Introduction to Therapy Documentation
Many therapists have heard horror stories about the amount of documentation expected in home health. High quality documentation is not about volume – it is about focus. This session will examine solid documentation principles to support medical necessity as well as the reassessment requirements.
Therapy Assessments - Setting the Stage

A solid home begins with a strong foundation. The initial assessment creates the basis for the plan of care and must support the need to provide additional visits. This session will focus on the critical elements of a thorough therapy assessment with examples of what should be seen in the documentation.
Therapy Visit Notes – Setting the Standards for "Medical Necessity"
Even with a great initial assessment and a clear vision, each brick added to a building has to be in the right place and stack up correctly or the structure will not be viable. This session will evolve thinking past the "every visit must stand alone" to provide a clear understanding of how visits must fit together and support each other to support medical necessity.
When Did Maintenance Become A Bad Word?

Word of Medicare updates that may eliminate the progress standard has caused a major buzz in the home health industry. The recent court lawsuit has caused many to ask: Has the benefit has been expanded? Should agencies no longer neglect management and evaluation (M&E) services for fear of failure to improve denials? How do I begin looking at utilizing these codes?
Get the answers you need from two of the industry's leading experts who will provide clear guidance about this critical issue.
Therapy Reassessment: Getting it Right

When trying to apply the modified rules, there are critical components that can lead to missing the correct timing. The end result will be a revenue loss that agencies can avoid with adequate preparation.
This training session is designed to answer all your questions about the revised Therapy Reassessment rule.
Bonus: Therapy Reassessment Testing
You know training is only as good as how it is applied... now test it! Measure your clinician's proficiency in the revised therapy reassessment guidelines before errors are made. Test your clinician's knowledge of the therapy reassessment requirements.
Kate Mercier, MS, PT
Kate has been working in the world of Home Health for over a decade. Kate has done work as a Physical Therapist, Staff Educator, and Clinical Manager. A graduate of Northeastern University, Kate has since become the Director of Performance Improvement and Staff Education for the Brockton VNA. Kate is incredibly excited to be working with us as an Educational Advisor.

Cindy Krafft, PT, MS
Cindy has 17 years of home health experience ranging from PRN Clinician to the Director of Rehabilitation for a six agency home care system. She serves as the President of the Home Health Section of the American Physical Therapy Association and is immediate past Chair of the NAHC Therapy Advisory Committee. She has authored two books focused on Therapy Documentation and Interdisciplinary Care Management as well as a variety of articles in Caring Magazine, The Remington Report, Success in Home Care, Home Healthcare Nurse, and the Home Health Section of APTA newsletter. As well as being an expert on therapy practice in home care she also assists agencies with achieving OASIS competency. She served as the Clinical Co-Director of the Delta National OASIS-C Best Practices Project and the Clinical Director of the Delta Excellence in Therapy Project. She is a well-received speaker at both the state and national levels on the topics of OASIS, therapy documentation, program development, therapy utilization, and recruitment.

Claudia Baker, RN, BS, HCS-D
Claudia has spent 30+ years as RN with significant experience in various field and management roles in home health, hospice and private duty settings. She has significant experience in product development and support for clinical software related to each of these key community-based areas. Claudia has extensive on-site interaction and education at agency level, specifically related to workflow process and improvement. She provides web-based educational offerings to agency audiences, both large and small, paying specific attention to the individual needs of each learner and agency.
The WellSky Learning Center requires an up-to-date web browser and supports the current versions of
Google Chrome
,
Mozilla Firefox
,
Microsoft EDGE
and
Internet Explorer 11
.
Internet Connection: 15mbs Download or Better
Exceptions in Pop-Up Blocker for https://academy.fazzi.com and https://learning.wellsky.com
Purchase one seat for each user. Users will access the training via a unique login to our Fazzi Learning Center. They will each have access to the training for one year. Also included in the subscription is a manager login, which gives the manager access to the course, completion reports, and grade book. Following your purchase, click "Add Users to Account" to add your users to your agency's account, and then click "Enroll Users in Course" to enroll them in the education. Users will be sent automatic email notifications with their login information and enrollment status.
1 - Orientation to Therapy Documentation
34 Minutes
2 - Therapy Documentation
80 Minutes
3 - Maintenance Therapy
14 Minutes
4 - Therapy Reassessment
18 Minutes