Getting It Right: Hospice Medicare Conditions for Payment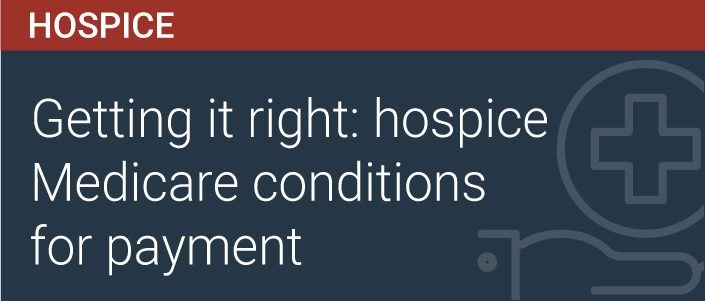 It is important that hospices focus on meeting the requirements for Medicaid as well as other payers, and in this presentation we will be closely examining the Medicare conditions for payment -- which is often the model for Medicaid and those other insurance companies. In addition to the patient having to be Medicare eligible, the hospice must also have a Certification of Terminal Illness (CTI), valid election of hospice care, Notice of Election, Plan of Care, and participation in the Hospice Quality Reporting Program (HQRP).
This course will provide you with the information necessary to understand each component of the Medicare conditions for payment, and what it means for you and the hospice you work for.
Ms. Wehri has been working in the hospice, home health, private duty, and palliative care industries for 24 years and has held executive level positions in these areas. She has worked for hospices in a variety of settings, including multiple locations in multiple states, a hospice inpatient unit, pediatric hospice and adult and pediatric palliative care. In addition Ms. Wehri has an extensive background in health care regulation and accreditation standards interpretation; compliance and quality assessment; performance improvement and opening and expanding sites for both home health and hospice organizations.

Experience:
2011 – present – Hospice Operations Expert, National Association for Home Care & Hospice, Washington, DC
2009 – present – President, Senior Consultant, Wehri and Associates LLC, Indiana
2009 – present – Hospice Liason, Indianna Association for Home & Hospice Care, Indianapolis, IN
2005 – 2008 – Director of Hospice, St. Vincent Hospital, Indianapolis, IN
2002 – 2005 – Executive Director Homecare Services, Blanchard Valley Health System, Findlay, OH

Certifications:
CHC – Compliance Certification Board, Minneapolis, MN
CHPC – Certified in Healthcare Privacy Compliance, Minneapolis, MN

Presentations:
"How to Deal with Current and Future Changes: Medical Hospice Policy Roundup": Spring Conference 2015, Tennessee Association for Home Care
"2015 Hospice Regulation Update": Hospice Clinical and Leadership Forum, May 2015, Ohio Council Home Care Association

The WellSky Learning Center requires an up-to-date web browser and supports the current versions of
Google Chrome
,
Mozilla Firefox
or
Microsoft EDGE
.
Internet Connection: 15mbs Download or Better
Exceptions in Pop-Up Blocker for https://learning.wellsky.com
Purchase one seat for each site using the course. Your agency will be provided one login to access the course with. For completion reporting, please view the seat version of the course. Following your purchase, access your training from your MyHome Dashboard in the Learning Center.