Getting it Right: OASIS for Coders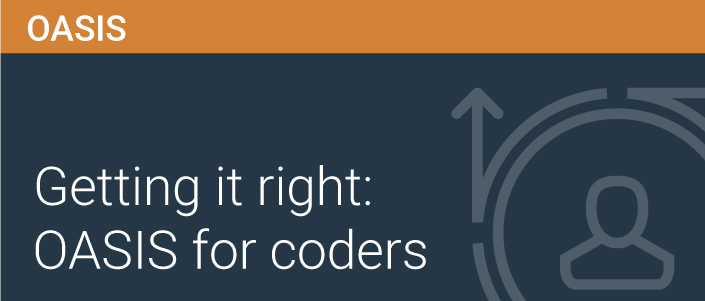 As a home health coder, it is important to understand the relationships between the OASIS Assessment, plan of care, care coordination, your agency, and the patient. Most of all though, it is important to know how to use the OASIS Assessment accurately and effectively in order to improve quality of care for the patient, and to ensure accurate reimbursement.
This training will provide you with the information you need to achieve a comprehensive understanding of the OASIS comprehensive assessment, walk you through specific M-items, and offer practice exercises to solidify what you've learned.
M items covered:
 M1021, M1023, M1028, M1030, M1242, M1306, M1311, M1322, M1324, M1330, M1340, M1400, M1610, M1630, M1730,  M1740,  M1910, M2401

The WellSky Learning Center requires an up-to-date web browser and supports the current versions of
Google Chrome
,
Mozilla Firefox
or
Microsoft EDGE
.
Internet Connection: 15mbs Download or Better
Exceptions in Pop-Up Blocker for https://learning.wellsky.com
Purchase one seat for each user. Users will access the training via a unique login to our Wellsky Learning Center. They will each have access to the training for one year. Also included in the subscription is a manager login, which gives the manager access to the course, completion reports, and grade book.