Emergency Preparedness for Home Health Agencies: Final Rule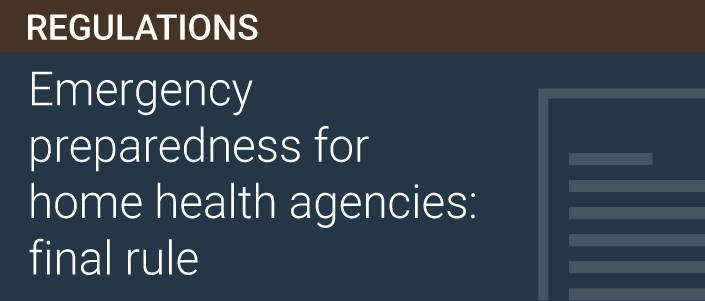 Home health and hospice agencies have a new Condition of Participation. After three years of waiting, the final rule for Medicare and Medicaid Programs, Emergency Preparedness Requirements for Medicare and Medicaid Participating Providers and Suppliers, was finally posted in September.
The Emergency Preparedness Rule outlines the requirements for all providers and suppliers in regards to planning, preparing and training for emergency situations. The rule includes emergency plans, communication and accountability requirements as well as the training of staff. The rule goes into effect November 16, 2016. Home health and hospice providers must have an emergency plan in place when this rule takes effect and must comply and implement all regulations one year after the effective date (November 16, 2017). Implementation and compliance date is November 15, 2017.

The time to begin preparing is now! Join us for a 1-hour recorded webinar where we'll review the new rule, and discuss best practice strategies for implementing a solid Emergency Preparedness program in your agency.
The WellSky Learning Center requires an up-to-date web browser and supports the current versions of
Google Chrome
,
Mozilla Firefox
or
Microsoft EDGE
.
Internet Connection: 15mbs Download or Better
Exceptions in Pop-Up Blocker for https://learning.wellsky.com
You will receive access to both our live and recorded sessions of our Emergency Preparedness webinar. You will receive an email confirmation from GoToWebinar on December 1st for the live session. A recorded version of the webinar will be available to you 2-3 business days after the live session. You will have access to the recording for one year following purchase.