How to Win a Hospice Eligibility Case: What Arguments are You Leaving on the Table?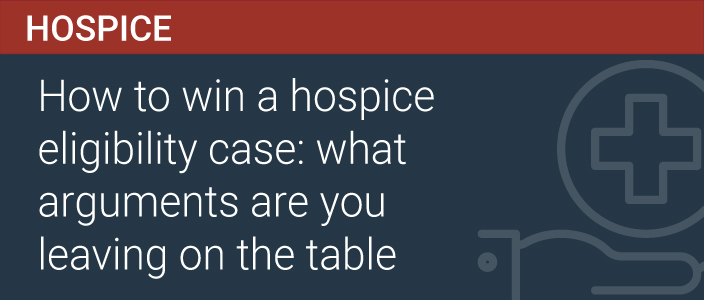 Join attorneys Bryan Nowicki and Jarod Ferch as they share strategies used in a variety of appeals to support and defend hospice eligibility decisions. Attendees will learn different ways to challenge eligibility decisions, from affirmatively demonstrating terminal prognosis by telling the patient's story, to dissecting clinical decisions to prove how and why the reviewer is wrong. The presenters will also help hospices understand how to think beyond the clinical arguments and bolster their appeals with established legal support that most hospices are unfamiliar with, such as the treating physician rule and waiver of liability under the Social Security Act. Additionally, they will discuss how these appeal strategies should inform how hospices document terminal prognosis to avoid future denials.

Bryan Nowicki, JD, BA, is a shareholder in Reinhart Boerner Van Deuren's Litigation Practice and
works closely with the firm's Telecommunications and Energy, Real Estate and Health Care Practices. Bryan
serves a wide range of clients, including large and small telecommunications and energy companies, cable
companies, internet service providers, renewable resource developers, and other independent power
producers. His background in real estate law has helped to serve businesses, residential and commercial real estate developers, real estate investment trusts, property managers and individuals. His health care work has involved representing hospices, child welfare agencies, and industry associations.

Jarod Ferch, J.D. is an attorney in Reinhart Boerner Van Deuren's Health Care Practice and is a core
member of the Hospice and Palliative Care group. He has experience working with hospices across the
country on a range of hospice-related regulatory, compliance and business matters. He regularly evaluates
and assists hospices with repayment, compliance, and regulatory issues, including ZPIC and MIC audits.
Jarod also helps hospices in reviewing contracts with nursing homes, assisted living facilities, hospitals,
physicians and other vendors.
The WellSky Learning Center requires an up-to-date web browser and supports the current versions of
Google Chrome
,
Mozilla Firefox
,
Microsoft EDGE
and
Internet Explorer 11
.
Internet Connection: 15mbs Download or Better
Exceptions in Pop-Up Blocker for https://academy.fazzi.com and https://learning.wellsky.com
$199.00
---
Our quantity discounts:
| | | | |
| --- | --- | --- | --- |
| Quantity | 2+ | 6+ | 11+ |
| Price | $99.00 | $49.00 | $39.00 |
Minimum quantity for "How to Win a Hospice Eligibility Case: What Arguments are You Leaving on the Table?" is 1.
---
COURSE DETAILS AT A GLANCE:
---
1.3 hrs
---
Contact Hours: Nursing
---
Skill Level: Intermediate
---
Instructor Name : Bryan Nowicki, JD, BA, and Jarod Ferch, J.D.
---