Hospice Care in the Assisted Living Facility – A Partnership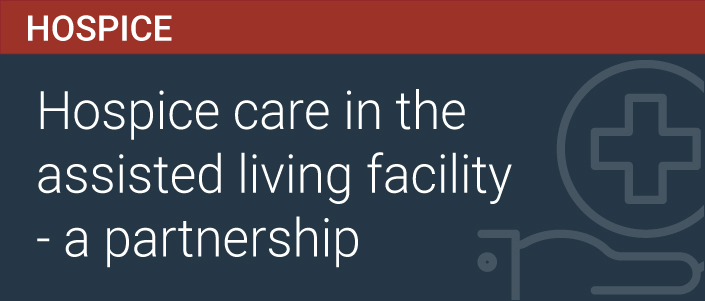 The number of assisted living residents eligible for and electing hospice care is increasing. In fact, this is one of the fastest growing sites of service for hospice care which has drawn the attention of oversight bodies such as the Office of the Inspector General. Most importantly, the assisted living facility and the hospice have the same goal of assisting the resident and providing high quality services, but the requirements of each are sometimes competing. In Ohio, there are specific licensure regulations that allow for exceptions to skilled care for residents that receive hospice services. In this webinar we will review the requirements for both hospice care and the assisted living facility, discuss the challenges of hospice care being provided to an ALF resident, and provide suggestions for practices of a successful partnership. Participants will receive an understanding of the eligibility requirements for providing hospice patient care in an assisted living facility.

Katie Wehri, CHC, CHPC is the hospice specialist with Ohio Council for Home Care & Hospice. With more than 20 years of experience, she has worked in community-based not for profit; hospital-based; for profit; 25-bed inpatient unit; pediatric hospice; and adult and pediatric palliative
care. Katie has an extensive background in regulatory, licensing/ certification and accreditation standards interpretation and implementation; hospice and home health start-up and Medicare certification/re-certification; initiation and development of survey readiness, quality and compliance programs; strategic planning; financial and performance management; community relations and fundraising. Certified in healthcare compliance (CHC) and healthcare privacy compliance (CHPC) through the Health Care Compliance Association, she also works in hospice operations.

Mandy Smith, CEAL/LNHA/LMT/LPTA/RAC-CT, is the Regulatory Director with Ohio Health Care Association/Ohio Centers for Assisted Living/Ohio Centers for Intellectual Disability (OHCA/OCAL/OCID) which is comprised of over 900 nursing facilities, assisted living facilities, and ICF/IID facilities and represents over 290 associate members. Mandy has 17 years of experience in the long term care industry. She became a certified Resident Assessment Coordinator through the American Association of Nurse Assessment Coordinators to better understand the MDS, Case Mix, Quality Measures, and nursing's role in the long term care environment. Additionally, Mandy is a licensed Nursing Home Administrator experiencing all areas of nursing home management care.
The WellSky Learning Center requires an up-to-date web browser and supports the current versions of
Google Chrome
,
Mozilla Firefox
or
Microsoft EDGE
.
Internet Connection: 15mbs Download or Better
Exceptions in Pop-Up Blocker for https://learning.wellsky.com