Interpreting the 2017 Medicare Home Health Prospective Payment System Final Rule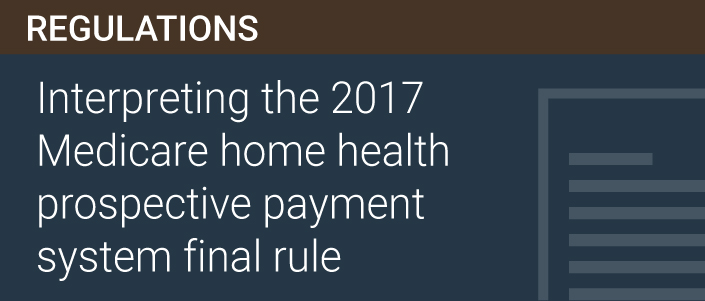 The final rule issued recently by the Centers for Medicare and Medicaid Services (CMS) includes a number of significant policy changes, in addition to the 2017 payment rates for home health. This program will analyze the changes for 2017 including: Payment rates that continue to decline! Will OASIS submissions continue to impact reimbursement negatively? Rate rebasing continues and CMS maintains its across-the-board recalibration of case mix weights. Case Mix creep continues to plague the industry, but nothing above what was promised last year. The Value-based purchasing program has been updated, and changes to the Outlier calculation and pressure ulcer devices will round out the topics of discussion. PPS expert Melinda Gaboury will provide us with an in-depth review of the integral elements in the Final Rule.

Melinda Gaboury, is co-founder and Chief Executive Officer of Healthcare Provider Solutions, Inc., an organization out of Nashville, TN that provides financial, reimbursement, and clinical chart reviews for home health and hospice. With more than 25 years of experience in Medicare Home Health, she is a presenter at both the state and national levels, and is interviewed frequently for national home health publications. Ms. Gaboury is also the author of "Home Health Pocket Guide to OASIS C2: A Reference Guide for Field Staff." The presenter has declared no conflict of interest for this program and will present fairly and without bias.
The WellSky Learning Center requires an up-to-date web browser and supports the current versions of
Google Chrome
,
Mozilla Firefox
or
Microsoft EDGE
.
Internet Connection: 15mbs Download or Better
Exceptions in Pop-Up Blocker for https://learning.wellsky.com
$199.00
---
Our quantity discounts:
| | | | |
| --- | --- | --- | --- |
| Quantity | 2+ | 6+ | 11+ |
| Price | $99.00 | $49.00 | $39.00 |
Minimum quantity for "Interpreting the 2017 Medicare Home Health Prospective Payment System Final Rule" is 1.
---
COURSE DETAILS AT A GLANCE:
---
1.2 hrs
---
Contact Hours: Nursing
---
Skill Level: Intermediate
---
Instructor Name : Melinda Gaboury
---