There's Gold in Your NTUC Cases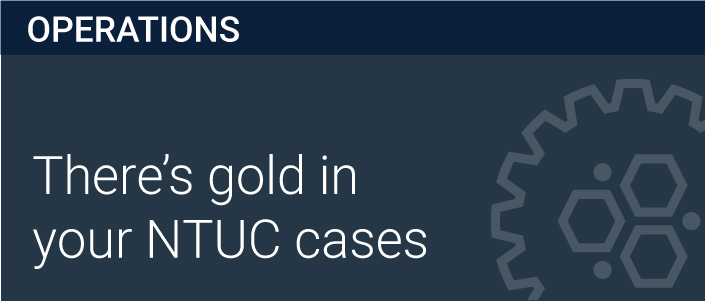 Just a 5% increase in your conversion rate could mean over $100,000 in additional revenue.*
Are you struggling with decreasing admissions? Is your agency missing out on opportunities? that are not being maximized? Are you looking for new ways to grow your business? Do you want to learn real strategies, strategies you can implement today, for increasing your volume of admissions without any additional sales calls? In today's competitive environment, it is crucial that all referrals be viewed as an opportunity. If you aren't converting your referrals to sales, you could be missing out on significant revenue potential. In this 60-minute webinar session you'll learn:
How to analyze your conversion rate and start focusing on building your business.
Strategies for identifying lost opportunities, and what you can do about them.
Key best practice strategies that will increase your conversion rate and increase admissions to your agency today!
Presented by Eileen Freitag, MBA, Director of Marketing and Strategic Consulting, WellSky.
Product Features
This educational activity is approved for 1.0 contact hour. This is a single training purchase of our 2-part marketing webinar series.
*Fazzi Associates, Inc. is accredited as a provider of continuing nursing education by the American Nurses Credentialing Center's Commission on Accreditation. 
Eileen is a Partner and Director of Fazzi's Strategic Consulting Division. She is the past President and CEO of one of the largest home care agencies in the United States, the Boston VNA, has served as the CEO of a long term care continuum that included a major home health component, and the Vice President of Business Development of a start-up software company. During her 40 year career in home care, she has served on the boards of a variety of local and national health care organizations. Eileen's division works with home health agencies on a variety of marketing, customer service, referral enhancement and interim management efforts.
The WellSky Learning Center requires an up-to-date web browser and supports the current versions of
Google Chrome
,
Mozilla Firefox
or
Microsoft EDGE
.
Internet Connection: 15mbs Download or Better
Exceptions in Pop-Up Blocker for https://learning.wellsky.com
Purchase one seat for each site using the course. Your agency will be provided one login to access the course with. For completion reporting, please view the seat version of the course. Following your purchase, access your training from your MyHome Dashboard in the Learning Center.