CoP Readiness Series: Your QAPI; Right for your agency!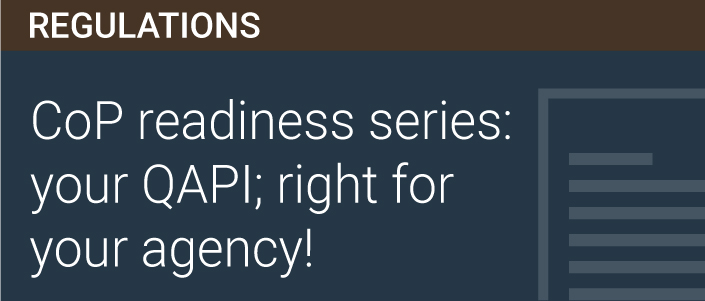 Recorded session available only
Ready to read, digest and determine how your agency will comply with the final 374-page rule updating the Home Health Conditions of Participation for Medicare and Medicaid (CoP) for the first time in 20 years? By July 13? No worries. WellSky will help you get there! 
The 2017 Conditions of Participation (CoP) now include multiple requirements for an agency-wide QAPI Program. Your QAPI program must be individualized to your agency, data driven and designed to improve patient outcomes. Join us for a focused review on what you need to know now and how to be ready before July 2017! This presentation is designed to share with staff and leadership to help ensure you have met the requirement to educate all skilled professionals on QAPI. Contact Hours: 1.0
The WellSky Learning Center requires an up-to-date web browser and supports the current versions of
Google Chrome
,
Mozilla Firefox
or
Microsoft EDGE
.
Internet Connection: 15mbs Download or Better
Exceptions in Pop-Up Blocker for https://learning.wellsky.com