Hospice Item Set: What You Need to Know About the April 1st Updates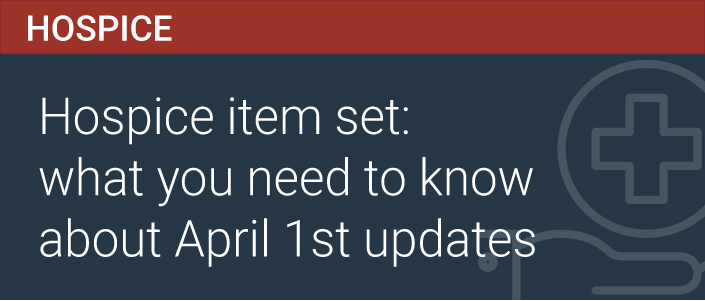 On April 1, 2017, the Hospice Item Set (HIS) underwent several revisions.  This includes two new quality measures that will now be publicly reported on starting summer 2017. 

Hospice Visits When Death is Imminent Measure Pair
Hospice and Palliative Care Composite Process Measure.
In addition, a new HIS-discharge section O – Service Utilization has 4 new HIS Items you need to know about: 
•    
O5000 Level of care in final 3 days
•    O5010 Number of hospice visits in final 3 days
•    O5020 Level of care in final 7 days
•    O5030 Number of hospice visits in 3-6 days prior to death
Don't risk impacting your Hospice Compare scores.  Watch this complete training session and review the current HIS reporting requirements, learn about the two new quality measures, and ensure your staff are ready to complete the new HIS items. 
Includes HIS bonus test for staff.

Catherine Dehlin, RN, BSN, CHPN
Catherine has 20+ years in home health and hospice settings as an RN with advancing levels of leadership, including start-up and growth of her own, very successful, hospice in Southeastern Louisiana. Her certification and specialty is in hospice operations, both clinical and financial, having received several awards and recognitions for management and operational efficiency and excellence through the years. She is a frequently requested educational presenter for state and local groups on hospice care and has extensive knowledge on clinical case management education. While working with Fazzi, Catherine consults in several areas, including, operational, educational, and compliance divisions.

The WellSky Learning Center requires an up-to-date web browser and supports the current versions of
Google Chrome
,
Mozilla Firefox
,
Microsoft EDGE
and
Internet Explorer 11
.
Internet Connection: 15mbs Download or Better
Exceptions in Pop-Up Blocker for https://academy.fazzi.com and https://learning.wellsky.com
Purchase one seat for each site using the course. Your agency will be provided one login to access the course with. Following your purchase, access your training from your MyHome Dashboard in the Learning Center.
$199.00
---
Minimum quantity for "Hospice Item Set: What You Need to Know About the April 1st Updates" is 1.
---
COURSE DETAILS AT A GLANCE:
---
0.8 hrs
---
Contact Hours: Nursing
---
Topics: Hospice
---
Skill Level: Intermediate
---
Instructor Name : Catherine Dehlin, RN, BSN, CHPN
---
COURSE START DATE:
---
April 01, 2017
---