Certified OASIS Quality Specialist Exam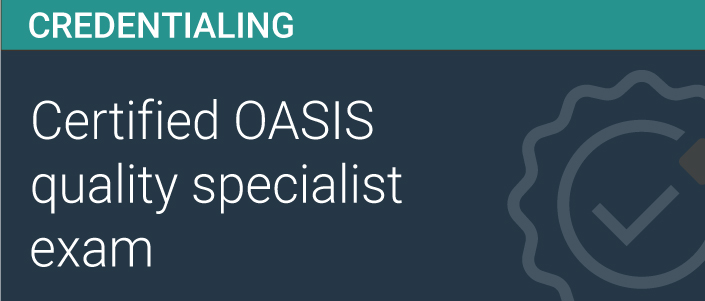 Developed, reviewed, beta tested and psychometrically analyzed and beta tested by industry leading OASIS experts, the Certified OASIS Quality Specialist (COQS) certification is an accurate and important measure of OASIS proficiency.  As part of the certification, COQS certificate holders are entitled to these additional benefits to continuously stay up to date with OASIS excellence best practice:
Complimentary webinars on challenging areas.

Complimentary "Ask Anita" Q+A sessions.

Automatic and complimentary admission to Fazzi's annual National OASIS Testing Project.

The COQS certification exam is 100 questions.  We highly encourage those sitting for the exam to complete Fazzi's online certification preparatory course prior to taking the exam.  After purchase of the exam, users will be instructed to log into the website and select a time and date to complete the exam.  This exam is completed online using an external online proctoring service.  Instructions will be emailed to all users after exam purchase. 
For more details on the exam and frequently asked questions, visit our certification webpage at https://www.fazzi.com/certified-oasis-quality-specialist/
Note: Candidates with proof of active OASIS certification in good standing from other certification programs are welcome to sit for the 80-question recertification COQS exam at the discounted recertification price.  To purchase the recertification exam, click here.
If you have taken the COQS course previously, you may purchase this for $199. Please email us at training@fazzi.com for a coupon code.
The WellSky Learning Center requires an up-to-date web browser and supports the current versions of
Google Chrome
,
Mozilla Firefox
,
Microsoft EDGE
and
Internet Explorer 11
.
Internet Connection: 15mbs Download or Better
Exceptions in Pop-Up Blocker for https://academy.fazzi.com and https://learning.wellsky.com
Purchase a seat to our Certified Quality Specialist Exam. Candidates will be asked to log in to schedule a time and date to complete the exam. This exam is completed online using an external online proctoring service. Instructions will be emailed to candidates after purchase.