Certified OASIS-D1 Quality Specialist Bundle (COQS) Course & Exam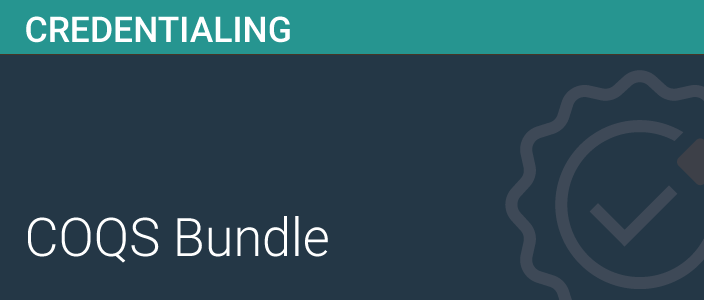 Sign up anytime! You have one year from your date of purchase to complete the course and schedule your exam.

OASIS-D1 Certification is now open for registration! Sign up now and receive a FREE copy of WellSky's new OASIS-D1 Field Guide 

Please note - We're unable to ship manuals outside the United States, we apologize for the inconvenience.
OASIS Certification Preparation Course

WellSky's online OASIS Certification Preparation Course is designed to assist participants in successfully achieving OASIS Certification.  Designed for those who already have some knowledge of OASIS, the OASIS Certification Preparation Course is an intermediate - advanced level course focused on the current OASIS data collection rules.
The COQS Preparation Course that includes 8 modules that include a combination of presentation videos, practice activities, recorded webinar Q&A sessions, and discussion with course colleagues.  Participants should expect to spend 1-2 hours completing each module. 
Certified OASIS Quality Specialist Exam (1 Exam Attempt)
Enrollment in the Exam course will follow your completion of our Exam enrollment preference survey within the Certification Course. This will allow you to choose enrollment in the initial Certification Exam or the Recertification Exam. 
Developed, reviewed, beta tested and psychometrically analyzed and beta tested by industry leading OASIS experts, the Certified OASIS Quality Specialist (COQS) certification is an accurate and important measure of OASIS proficiency.  As part of the certification, COQS certificate holders are entitled to these additional benefits to continuously stay up to date with OASIS excellence best practice:
Complimentary webinars on challenging areas.

Complimentary "Ask Anita" Q+A sessions.

Automatic and complimentary admission to WellSky's annual National OASIS Testing Project.

The COQS certification exam is 100 questions.  We highly encourage those sitting for the exam to complete WellSky's online certification preparatory course prior to taking the exam.  After purchase of the exam, users will be instructed to log into the website and select a time and date to complete the exam.  This exam is completed online using an external online proctoring service.  Instructions will be emailed to all users after exam purchase. 
Note: Candidates with proof of active OASIS certification in good standing from other certification programs are welcome to sit for the 80-question recertification COQS exam at the discounted recertification price.  To purchase the recertification exam, click here.

As Senior Compliance Consultant, Anita Werner is widely known as an OASIS expert, instructor, enthusiast, devotee, coach and mentor. She has over 30 years of nursing experience and over 20 in home care. Prior to joining WellSky, she ran a successful consulting practice providing agencies with advisory services, education, clinical direction, audits and reviews in several critical areas. In addition to OASIS, she is also a recognized expert in coding, quality and compliance. A frequent presenter at state and national conferences, she is appreciated far and wide for her ability to make complex concepts and regulations real and understandable.
The WellSky Learning Center requires an up-to-date web browser and supports the current versions of
Google Chrome
,
Mozilla Firefox
or
Microsoft EDGE
.
Internet Connection: 15mbs Download or Better
Exceptions in Pop-Up Blocker for https://learning.wellsky.com
Purchase a seat in the COQS Bundle for a seat in both our full OASIS Certification Preparation Course and our Certified OASIS Quality Specialist Exam. The COQS Preparation Course includes 8 modules. Each module includes a combination of presentation videos and practice activities. Participants will gain access to all content upon enrollment to the course. Participants should expect to spend 1-2 hours completing each module.
Upon completion of the course, participants will receive access to a practice certification exam to test their readiness. Once ready, participants may sign up to complete the COQS or other certification exam on their own schedule.
Further instructions will be delivered via email.
Module 1
• Official Sources for CMS Guidance • State OASIS Education Coordinators • State OASIS Automation Coordinators • CMS Home Health Conditions of Participation and the OASIS • Determining when an OASIS is Required • Initial Assessment vs. Comprehensive Assessment • OASIS and Outcome Calculations • Role of Risk Adjustment • Home Health Quality Measures • Outcome Based Quality Improvement (OBQI) • Outcome Based Quality Management (OBQM) • Potentially Avoidable Events • New Quality Measures • OASIS and STAR Ratings • OASIS and Reimbursement Calculation • OASIS and Value Based Purchasing (VBP)
Module 2
• Conventions for OASIS Time Periods • Use of the Dash in OASIS Responses • Collaboration Convention • Data Collection Time Points • SOC Date: M0030 • ROC Date: M0032 • Assessment Completion Date: M0090 • Reason for Assessment: M0100 • Physician Ordered SOC/ROC Date: M0102 • Referral Date: M0104 • Episode Timing: M0110 • Payment Sources: M0150 • Inpatient Facilities: M1000 • Home Health Diagnoses: M1021/M1023
Module 3
• Use of a Dash (-) • Active Diagnoses: M1028 • Therapies Received in the Home: M1030 • Hospitalization Risk: M1033 • Influenza Vaccination: M1041-M1046 • Pneumococcal Vaccination: M1051-M1056 • Height and Weight: M1060 • Living Situation: M1100 • Vision: M1200 • Pain Interfering with Activity: M1242 • Falls Since SOC/ROC: J1800 • Number of Falls Since SOC/ROC: J1900
Module 4
• WOCN and NPUAP Guidance • Pressure Ulcers: M1306-M1324 • Stasis Ulcers: M1330-M1334 • Surgical Wounds: M1340-M1342
Module 5
• Dyspnea: M1400 • Elimination Items: M1600-M1630 • Cognition and Mental Health Items: M1700-M1745 • Prior Functioning: GG0100 • Prior Device Use: GG0110 • Introduction to the GG Self-Care and Mobility Items
Module 6
• The OASIS Walk • Grooming & Oral Hygiene: M1800 and GG0130B • Dressing: M1810-M1820 and GG0130F/G/H • Bathing: M1830 and GG0130E • Toilet Transfers: M1840 and GG0170F • Toileting Hygiene: M1845 and GG0130C
Module 7
• Bed Transfers: M1850 and GG0170A/B/C/D • Chair Transfers: GG0170E • Ambulation /Stairs: M1860 and GG0170i/J/K/L/M/N/O • Wheelchair/Scooter Use: GG0170Q/R/S • Picking Up an Object: GG0170P • Car Transfers: GG0130G • Eating: M1870 and GG0130A
Module 8
• Fall Risk Assessment: M1910 • Drug Regimen Review: M2001 • Medication Follow-Up: M2003 • Medication Intervention: M2005 • High-Risk Drug Education: M2010 • Drug Education Intervention: M2016 • Oral Medication Management: M2020 • Injectable Medication Management: M2030 • Types and Sources of Assistance: M2102 • Therapy Need: M2200 • Intervention Synopsis: M2401 • Emergent Care: M2301 • Emergent Care Reasons: M2310 • Inpatient Admission: M2410 • Discharge Disposition: M2420 • Date of Discharge/Transfer/Death: M0906 • Testing Tips for Certification Exam