ICD-10-CM 2018 Coding Updates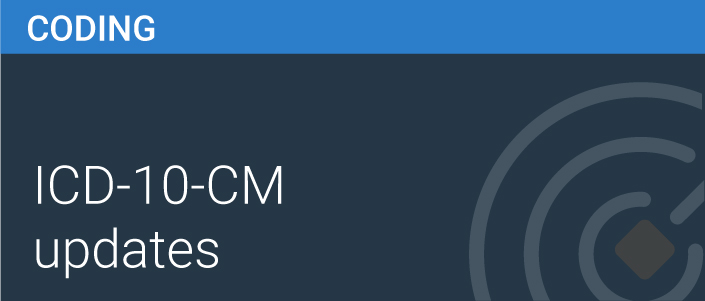 2018 ICD-10 Updates!
It's that time of year again!  October 1st of every year the ICD-10-CM code set and guidelines are updated. This year's changes include:
360 New code additions
142 Code deletions
250+ Code title revisions

Along with updates to the guidelines, such as the use of the index term "in", there are several code revisions that impact home health.

Recurrent C-diff
Blindness and low vision
Type 2 DM with ketoacidosis
Psychoactive substance abuse in remission
COPD sequencing
Heart failure
MI types
Severity of non-pressure ulcers
Are you prepared for the coding changes in effect for services provided October 1st and later?
Join this session for an overview of all the 2018 code changes and avoid billing rejections. You'll get all the information you need to maintain coding accuracy and proper reimbursement.
FREE BONUS: ICD-10 Updates Practice Test.  Test your coders on the changes to ensure they have mastered these new skills.
Lisa is Fazzi's Director of Coding Quality and Education, and is also an AHIMA certified ICD-10-CM trainer. With over 15 years home health coding experience, Lisa brings a breadth of knowledge to her trainings. Lisa has had progressive experience in home health organizations for over 30 years and over sixteen years of experience in consulting such topics as strategic planning, organizational and operational design, workflow analysis, interim management and staff development. She has received a certificate for Home Care Coding Specialist-Diagnosis from the Board of Advanced Medical Coding and has made numerous presentations on Diagnostic Coding throughout the US.
The WellSky Learning Center requires an up-to-date web browser and supports the current versions of
Google Chrome
,
Mozilla Firefox
or
Microsoft EDGE
.
Internet Connection: 15mbs Download or Better
Exceptions in Pop-Up Blocker for https://learning.wellsky.com
Purchase one seat for each user. Users will access the training via a unique login to our Fazzi Learning Center. They will each have access to the training for one year. Also included in the subscription is a manager login, which gives the manager access to the course, completion reports, and grade book. Following your purchase, click "Add Users to Account" to add your users to your agency's account, and then click "Enroll Users in Course" to enroll them in the education. Users will be sent automatic email notifications with their login information and enrollment status.