National OASIS-D Proficiency Test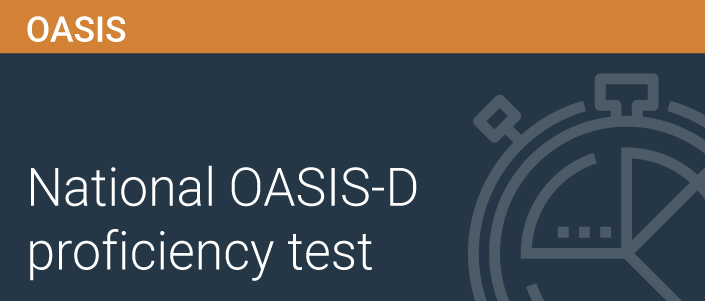 Join us for our OASIS-D Proficiency Testing project. We're testing the nation on their skill level in OASIS-D. The cost is only $25 per test and agencies are encouraged to register all clinicians who use OASIS in the test for an accurate assessment of their OASIS-D comprehension.
As a participant, you receive: 
• Detailed results for your agency as a whole and for each clinician.
• Results segmented by M-items that impact quality, reimbursement, Star Ratings, Value-Based Purchasing measures and by major OASIS segment, including the new GG and JJ items!
• Benchmark data comparing your agency to national results and to your own state results.
• Free participation in a national webinar to review the results and provide insights and best practice training tips.
The WellSky Learning Center requires an up-to-date web browser and supports the current versions of
Google Chrome
,
Mozilla Firefox
or
Microsoft EDGE
.
Internet Connection: 15mbs Download or Better
Exceptions in Pop-Up Blocker for https://learning.wellsky.com