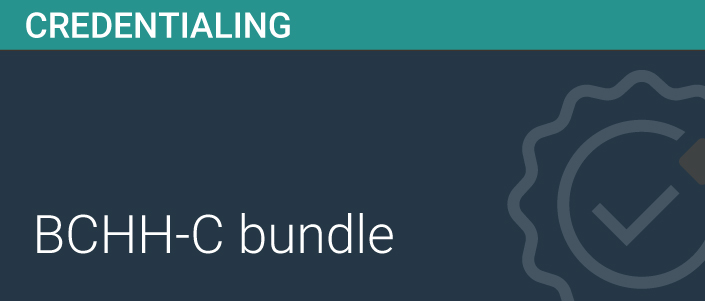 This is for the BCHH-C Bundle which will include the BCHH-C course, BCHH-C exam and a physical copy of the OASIS-D1 Field Guide mailed to your door. 

Please note, due to the COVID-19 Virus, Wellsky has shut their offices until Mid-April. This will impact shipping of any field guides until that date. We thank you for your patience and understanding during this time. Any Field Guides or bundles that include Field Guides purchased up until that time will be shipped as soon as possible upon our office's reopening. To check the status, please email us at learning@wellsky.com
Please note - We're unable to ship manuals outside the United States, we apologize for the inconvenience. 

PDGM is just around the corner. Now, more than ever, certifying your home health coding proficiency is critical to achieving PDGM success! Join the thousands of coders who have already become BCHH-C certified with our new 8-week online training program. Developed by industry leading coding experts, the BCHH-C online certification bundle includes:
A comprehensive, effective, engaging, convenient and affordable 8-week online highly targeted preparation course and practice exam to prepare participants for the coding certification exam. Our BCHH-C preparation course also includes a PDGM module to prepare coders for January 1st.
A 100-question proctored certification exam (or 80-question recertification exam) which can be taken online from the convenience of home or office.
Fazzi's popular OASIS-D1 Field Guide to Data Collection with CMS Chapter 3 guidance, Q&As and Fazzi best practice guidance.
Note: Participants need a current ICD-10-CM Home Health & Hospice code book  to participate in the course.
Why is the BCHH-C so Valuable?

Coders can obtain BCHH-C coding certification completely online with our online certification course and examination.
BCHH-C certificants receive free annual competency testing, frequent coding udpates webinars and "Ask The Expert" sessions.
The BCHH-C course and exam are unique in our industry to include not just ICD-10-CM concepts but also test and train in those areas of OASIS (25%) required to become an expert coder. In fact, some employers require no additional OASIS certification when holding the BCHH-C credential.
Coders with other coding certifications may take the BCHH-C 80 question recertification exam.
Led by a team of coding experts, the quality of the course instruction and materials is outstanding.
The WellSky Learning Center requires an up-to-date web browser and supports the current versions of
Google Chrome
,
Mozilla Firefox
,
Microsoft EDGE
and
Internet Explorer 11
.
Internet Connection: 15mbs Download or Better
Exceptions in Pop-Up Blocker for https://academy.fazzi.com and https://learning.wellsky.com