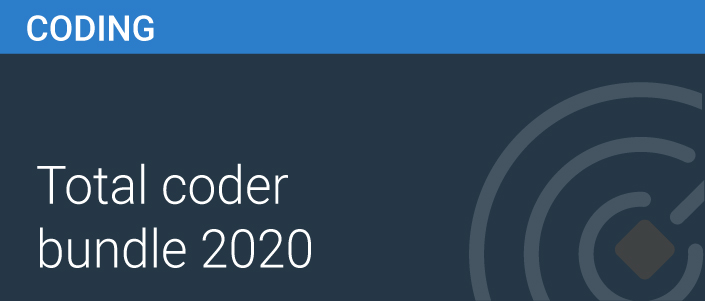 Please note, Due to the COVID-19 Virus, Wellsky has shut their offices until Mid-April. This will impact shipping of any field guides until that date. We thank you for your patience and understanding during this time. Any Field Guides or bundles that include Field Guides purchased up until that time will be shipped as soon as possible upon our office's reopening. To check the status, please email us at learning@wellsky.com
Our Total Coder Bundle is perfect for coders who are less familiar with ICD-10-CM looking to become certified.  The program includes 3 phases:

Phase 1: ICD-10 Online Training Program:
This 20 hour complete ICD-10-CM online course for home health is for coders, educators, billing staff and clinicians who are interested in familiarizing themselves with ICD-10-CM. Participants will learn about the history, organization and structure, and achieve a comprehensive understanding of new coding conventions and guidelines.  In addition, we provide a chapter-by-chapter review of the code set. You won't find a more complete online training anywhere else.
This is a self-paced course that can be started anytime!  Each training module includes self-guided instruction pages, practice activities, application based quizzes, audio training, and a chapter test to measure proficiency in that area before moving forward.  
Phase 2: BCHH-C Prep Course:
PDGM is just around the corner.  Now, more than ever, certifying your home health coding proficiency is critical to achieving PDGM success! Join the thousands of coders who have already become BCHH-C certified with our new 8-week highly targeted online coding certification preparation program.  
Each week coders will have access to a new module of materials covering the 4 domains of the BCHH-C exam: Health Information Documentation, Regulatory Compliance and Reimbursement, OASIS for Coding, and the ICD-10-CM code set.  At the end of the course participants will have the opportunity to ask questions as well as complete a BCHH-C practice exam.

Phase 3: BCHH-C Online Coding Certification Exam:

As part of the package, you'll receive 1 attempt at our online BCHH-C exam.  Developed, reviewed, psychometrically analyzed and beta tested by industry leading coding experts, the BCHH-C is an accurate and important measure of coder proficiency.
The exam is 100 questions long and participants have up to 5 hours to complete it.  Further, the exam can be taken from the convenience of your own home using our online proctoring service.    
Bonus: OASIS-D1 Field Guide to Data Collection - PLEASE NOTE: OASIS-D1 manuals will not ship until late January, 2020.
Fazzi Associates' Field Guide to OASIS Data Collection is a pocket-sized guide perfect for assisting clinicians with OASIS-D1 guidance while completing the OASIS assessment in the field.  Designed and compiled by our OASIS experts, materials include:
• OASIS-D1 Guidance Manual Chapter 3
• CMS OASIS Quarterly Q & As
• Fazzi's trademarked OASIS Walk toolkit
• OASIS Assessment Reference Sheet
• Conditions of Participation
It is recommended that coders sitting for the BCHH-C exam bring a copy of the OASIS-D1 Field Guide to complete the OASIS domain within the exam.  Please note that we cannot ship OASIS Field Guides outside of the United States.
*Coders are required to purchase a recent copy of the ICD-10-CM code book as part of the program.
The WellSky Learning Center requires an up-to-date web browser and supports the current versions of
Google Chrome
,
Mozilla Firefox
,
Microsoft EDGE
and
Internet Explorer 11
.
Internet Connection: 15mbs Download or Better
Exceptions in Pop-Up Blocker for https://academy.fazzi.com and https://learning.wellsky.com