PDGM Part 5: Coding Comorbidities with PDGM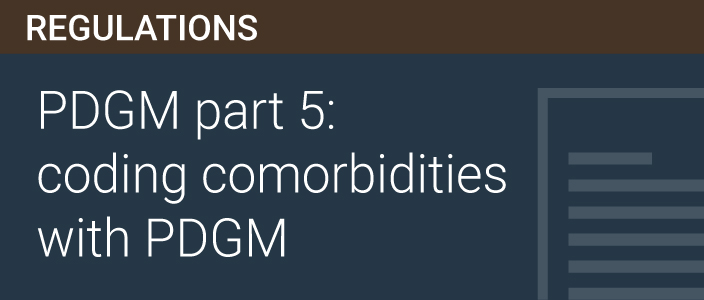 Coding Comorbidities with PDGM (October 9, 2019)
PDGM includes a comorbidity adjustment category based on the presence of secondary diagnoses. It will soon be especially important for coders to code all applicable comorbidities - as depending on a patient's secondary diagnoses, a 30-day period may receive no comorbidity adjustment, a low comorbidity adjustment, or a high comorbidity adjustment.  The comorbidity adjustment is impacted by the number of interacting secondary diagnoses.  
Coders need to understand that additional coding will be needed to capture all the comorbidities but there is a delicate balance required as clinicians need to be addressing these diagnoses in the care plan. Using the PDGM Comorbidity Subgroups as a guide, we will review how to code comorbidities accurately. 
Objectives:
Review the comorbidity categories & subcategories in PDGM.
Discuss the 11 comorbidity subgroups and included diagnoses.
The WellSky Learning Center requires an up-to-date web browser and supports the current versions of
Google Chrome
,
Mozilla Firefox
or
Microsoft EDGE
.
Internet Connection: 15mbs Download or Better
Exceptions in Pop-Up Blocker for https://learning.wellsky.com