PDGM Part 2: Case Management and PDGM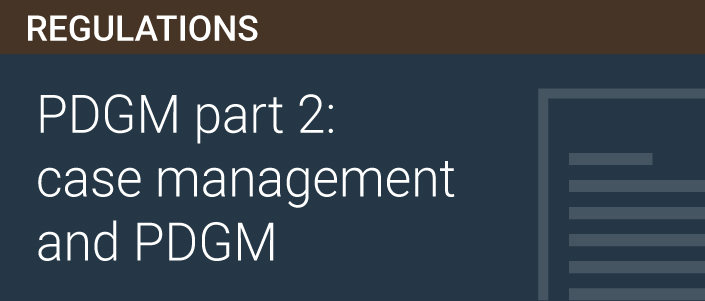 Case Management and PDGM (September 18, 2019)
PDGM preparation, Value Based environment and new CoP compliance demands a changing level of performance by our field staff. Updating your agency's case management practice and associated leadership focus will increase the value of your service to your patients and the performance of your agency.
Leadership of process and people requires a focused understanding of PDGM Key Performance Indicators (KPIs), as well as underlying Key Performance Behaviors (KPBs) needed to move the metrics in the right direction! This training will establish these PDGM building blocks for successful leadership of effective case management and will reinforce KPIs needed for your leadership dashboard.
Objectives:
Reinforce KPIs for success (LUPA rates, hospitalization, productivity).
Discuss the tools needed to achieve them and the leadership techniques needed to guide and sustain top notch performance. 
Identify key case management strategies to achieve best-practice clinician performance.
The WellSky Learning Center requires an up-to-date web browser and supports the current versions of
Google Chrome
,
Mozilla Firefox
or
Microsoft EDGE
.
Internet Connection: 15mbs Download or Better
Exceptions in Pop-Up Blocker for https://learning.wellsky.com