PDGM Part 1: Intake Strategies for Success with PDGM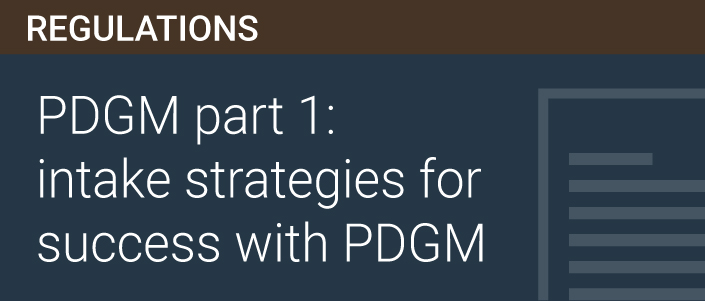 Intake Strategies for Success with PDGM (September 11, 2019)
The Patient-Driven Groupings Model (PDGM) will dramatically affect the way home health agencies are paid. It also will have a significant impact on agencies' operations, from intake through discharge. During this session we will walk agencies through the significant home health changes under PDGM and detail how agencies should adapt their intake process as a result. This includes strategies for getting detailed documentation, questions intake staff can ask to gather additional details necessary for accurate coding, and best practices for increasing efficiencies within the intake department.
Objectives:
Identify the ways PDGM will affect agencies' intake departments.
Increase efficiencies within their own intake department.
Educate their intake staff about how to gather additional detail so that the agency can code as accurately as possible.
The WellSky Learning Center requires an up-to-date web browser and supports the current versions of
Google Chrome
,
Mozilla Firefox
or
Microsoft EDGE
.
Internet Connection: 15mbs Download or Better
Exceptions in Pop-Up Blocker for https://learning.wellsky.com