PDGM Part 3: OASIS-D1 and PDGM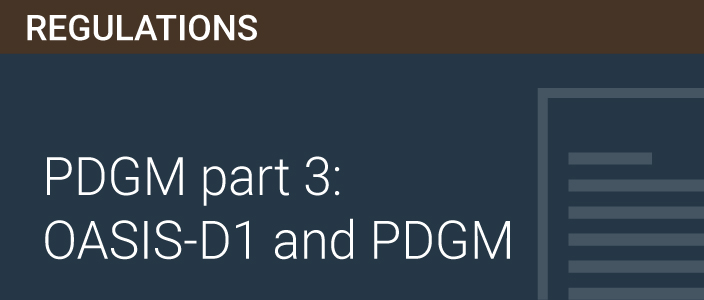 OASIS-D1 and PDGM (September 25, 2019)
The PDGM Functional Impairment Level is based on 8 key OASIS items. Including:
M1800: Grooming
M1810: Current Ability to dress upper body safely
M1820: Current ability to dress lower body safely
M1830: Bathing
M1840: Toilet Transferring
M1850: Transferring
M1860: Ambulation/Locomotion
M1033: Risk for hospitalization
How your staff answer these 8 items could significantly impact your functional score, HHRG calculations, and ultimately your reimbursement.  Never before has it been more imperative that your clinicians know how to accurately assess their patients in the home to ensure they accurately respond to these key items. This educational session explains the importance of OASIS as the foundation of goal directed, patient-centered care planning and best practices for assessing the patient's functional abilities.
Objectives:
Discuss best practice strategies for answering the PDGM OASIS items accurately.
Learn how to incorporate the OASIS Walk into the SOC/ROC assessment. 
The WellSky Learning Center requires an up-to-date web browser and supports the current versions of
Google Chrome
,
Mozilla Firefox
or
Microsoft EDGE
.
Internet Connection: 15mbs Download or Better
Exceptions in Pop-Up Blocker for https://learning.wellsky.com