PDGM Part 6: Care Management with PDGM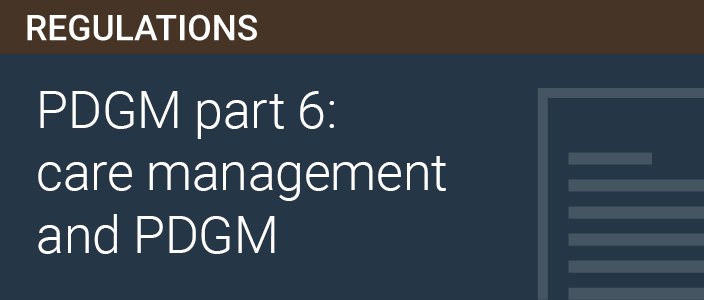 Care Management with PDGM (October 16, 2019)
PDGM changes the payment model significantly while the current Home Health Conditions of Participation including OASIS and eligibility criteria remain the foundation of our clinical practice. Efficient clinician workflows, proper utilization of all services and case management oversight are vital to success in PDGM.

Objectives:
Describe the PDGM case mix structure and key corresponding regulations.
Discuss effective and realistic case management practices.
Discuss key service utilization strategies, including LUPA management.
The WellSky Learning Center requires an up-to-date web browser and supports the current versions of
Google Chrome
,
Mozilla Firefox
or
Microsoft EDGE
.
Internet Connection: 15mbs Download or Better
Exceptions in Pop-Up Blocker for https://learning.wellsky.com