PDGM Part 7: Service Utilization Management Training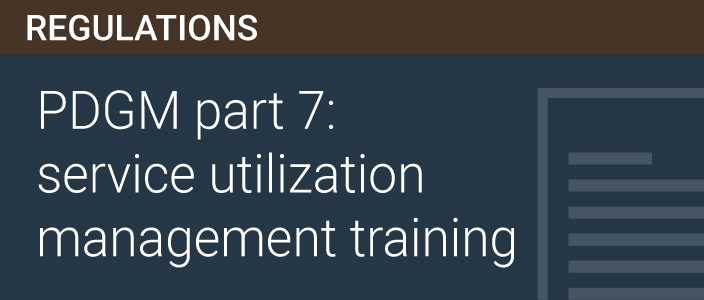 Service Utilization Management Training (October 23, 2019)
Success in home health continues to require organizations to develop the core competency and capability of managing care in order to maximize quality patient outcomes and satisfaction scores at the lowest cost.  With the onset of PDGM, agency leaders and clinicians must learn how to best assess their patients and plan goal-directed care using the most efficient and effective multi-disciplinary visits.  Utilizing the appropriate services to meet care goals while remaining efficient is not only best practice, it's imperative for the success of your organization.

Objectives:
Learn how to use data to drive successful utilization management.
Discuss strategies, such as frontloading and the use of significant change in condition, to develop patient centered plans of care.
The WellSky Learning Center requires an up-to-date web browser and supports the current versions of
Google Chrome
,
Mozilla Firefox
or
Microsoft EDGE
.
Internet Connection: 15mbs Download or Better
Exceptions in Pop-Up Blocker for https://learning.wellsky.com