PDGM Bundle: 8 Part Training Series and PDGM Financial Analyzer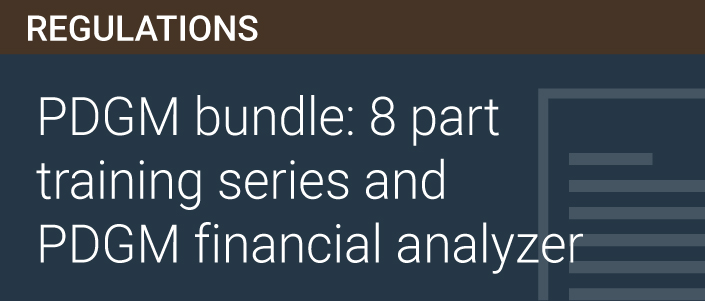 The PDGM Series begins on September 11, 2019.
This is the PDGM Bundle. The bundle includes these 8 critically important trainings and the PDGM Financial Analyzer.
Intake Strategies for Success with PDGM (September 11, 2019)
The Patient-Driven Groupings Model (PDGM) will dramatically affect the way home health agencies are paid. It also will have a significant impact on agencies' operations, from intake through discharge. During this session we will walk agencies through the significant home health changes under PDGM and detail how agencies should adapt their intake process as a result. This includes strategies for getting detailed documentation, questions intake staff can ask to gather additional details necessary for accurate coding, and best practices for increasing efficiencies within the intake department.
Objectives:
Identify the ways PDGM will affect agencies' intake departments.
Increase efficiencies within their own intake department.
Educate their intake staff about how to gather additional detail so that the agency can code as accurately as possible.
Case Management and PDGM (September 18, 2019)
PDGM preparation, Value Based environment and new CoP compliance demands a changing level of performance by our field staff. Updating your agency's case management practice and associated leadership focus will increase the value of your service to your patients and the performance of your agency.
Leadership of process and people requires a focused understanding of PDGM Key Performance Indicators (KPIs), as well as underlying Key Performance Behaviors (KPBs) needed to move the metrics in the right direction! This training will establish these PDGM building blocks for successful leadership of effective case management and will reinforce KPIs needed for your leadership dashboard.
Objectives:
Reinforce KPIs for success (LUPA rates, hospitalization, productivity).
Discuss the tools needed to achieve them and the leadership techniques needed to guide and sustain top notch performance. 
Identify key case management strategies to achieve best-practice clinician performance.
OASIS-D1 and PDGM (September 25, 2019)
The PDGM Functional Impairment Level is based on 8 key OASIS items. Including:
M1800: Grooming
M1810: Current Ability to dress upper body safely
M1820: Current ability to dress lower body safely
M1830: Bathing
M1840: Toilet Transferring
M1850: Transferring
M1860: Ambulation/Locomotion
M1033: Risk for hospitalization
How your staff answer these 8 items could significantly impact your functional score, HHRG calculations, and ultimately your reimbursement.  Never before has it been more imperative that your clinicians know how to accurately assess their patients in the home to ensure they accurately respond to these key items. This educational session explains the importance of OASIS as the foundation of goal directed, patient-centered care planning and best practices for assessing the patient's functional abilities.
Objectives
Discuss best practice strategies for answering the PDGM OASIS items accurately.

Learn how to incorporate the OASIS Walk into the SOC/ROC assessment. 
Preparing Your Coders for PDGM (October 2, 2019)
One of the biggest changes with PDGM are the new guidelines for home health coding.  In this session we review the twelve clinical subgroups and how comorbidities are impacting case mix in the PDGM.  Discussion will focus on how coders can best prepare for the new model.
Objectives:
Recognize the twelve clinical sub-groups and unacceptable primary codes.
Identify common home health codes under each sub-group.
Describe the steps to prepare coders for PDGM coding.
Coding Comorbidities with PDGM (October 9, 2019)
PDGM includes a comorbidity adjustment category based on the presence of secondary diagnoses. It will soon be especially important for coders to code all applicable comorbidities - as depending on a patient's secondary diagnoses, a 30-day period may receive no comorbidity adjustment, a low comorbidity adjustment, or a high comorbidity adjustment.  The comorbidity adjustment is impacted by the number of interacting secondary diagnoses.  
Coders need to understand that additional coding will be needed to capture all the comorbidities but there is a delicate balance required as clinicians need to be addressing these diagnoses in the care plan. Using the PDGM Comorbidity Subgroups as a guide, we will review how to code comorbidities accurately. 
Objectives:
Review the comorbidity categories & subcategories in PDGM.
Discuss the 11 comorbidity subgroups and included diagnoses.
Care Management with PDGM (October 16, 2019)
PDGM changes the payment model significantly while the current Home Health Conditions of Participation including OASIS and eligibility criteria remain the foundation of our clinical practice. Efficient clinician workflows, proper utilization of all services and case management oversight are vital to success in PDGM.
Objectives:
Describe the PDGM case mix structure and key corresponding regulations.
Discuss effective and realistic case management practices.
Discuss key service utilization strategies, including LUPA management.
Service Utilization Management Training (October 23, 2019)
Success in home health continues to require organizations to develop the core competency and capability of managing care in order to maximize quality patient outcomes and satisfaction scores at the lowest cost.  With the onset of PDGM, agency leaders and clinicians must learn how to best assess their patients and plan goal-directed care using the most efficient and effective multi-disciplinary visits.  Utilizing the appropriate services to meet care goals while remaining efficient is not only best practice, it's imperative for the success of your organization.
Objectives:
Learn how to use data to drive successful utilization management.
Discuss strategies, such as frontloading and the use of significant change in condition, to develop patient centered plans of care.
PDGM and Billing (October 30, 2019)
Bonus PDGM Financial Analyzer
Agencies who purchase the webinar series now will also receive free access to our interactive PDGM Financial Analyzer. Based on 2018 claims data, our PDGM Financial Analyzer gives you a comprehensive analysis of the projected financial impact of the Patient-Driven Groupings Model (PDGM) on your agency. 
With the Financial Analyzer you'll get detailed illustrations of your agency data - comparing the current Home Health Prospective Payment System (HHPPS) and the proposed PDGM model using 2018 claims data – in the following key areas: 
Primary diagnosis codes not tied to a clinical group and potential loss  
Nursing/Therapy visit ratios for agency top 5 primary diagnoses 
LUPA percentage of visits, payment, and LUPA payment by clinical group 
Payment and cost by functional group, admission source, comorbidity 
And much more! 
All provided with national and state benchmarks.
Combined with the training series, you'll get the detail you need to understand what's driving the projected change in your reimbursement and to create your PDGM Readiness plan. Be prepared with your PDGM data during the webinar series so that our presenters can walk you through your benchmarks. 
The WellSky Learning Center requires an up-to-date web browser and supports the current versions of
Google Chrome
,
Mozilla Firefox
,
Microsoft EDGE
and
Internet Explorer 11
.
Internet Connection: 15mbs Download or Better
Exceptions in Pop-Up Blocker for https://academy.fazzi.com and https://learning.wellsky.com