BCHH-C Recertification Exam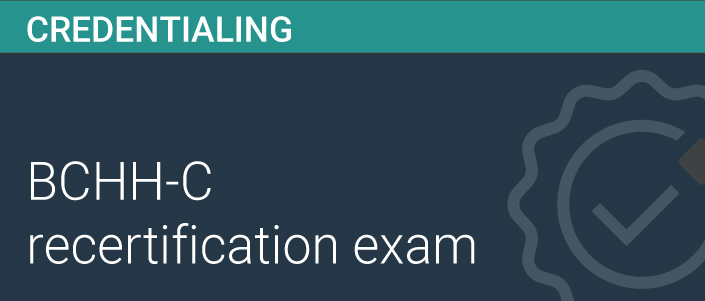 Purchase one seat of the BCHH-C Recertification Exam to take the exam via an online proctor. Candidates who pass this exam will be certified in ICD-10-CM for 3 years.  
Exam Information

Domains covered: Health Information Documentation 5%, Diagnosis Coding 85%, Regulatory Compliance and Reimbursement 5%, Oasis 5%

Full Exam: 80 questions, 5 hours

Online proctored exam, delivered via WellSky Learning Center

There are no eligibility requirements for taking this exam. 

For more information, view our BCHH-C Candidate Handbook at http://www.ncbhh.com/wp-content/uploads/2017/08/BCHH-CCandidateHandbook2.pdf 



The WellSky Learning Center requires an up-to-date web browser and supports the current versions of
Google Chrome
,
Mozilla Firefox
or
Microsoft EDGE
.
Internet Connection: 15mbs Download or Better
Exceptions in Pop-Up Blocker for https://learning.wellsky.com