PDGM Part 8: Billing Under PDGM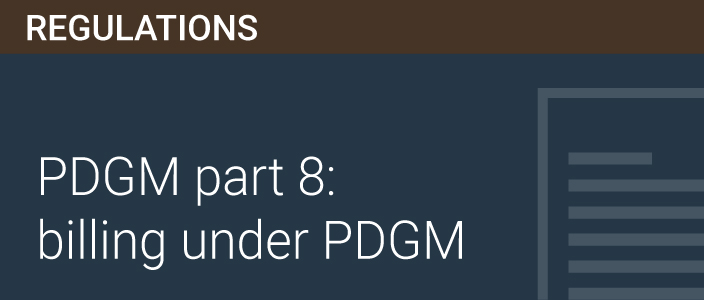 Billing Under PDGM Training (October 30, 2019)

In the final webinar of WellSky's PDGM Series, Diane Poole, Vice President of Revenue Cycle Services at WellSky, addresses the changes and impacts of PDGM for billing staff.
The learning objectives will be to:
·         Identify the reasons why PDGM is being implemented on 1/1/2020
·         Explain which areas of billing will be changing due to PDGM and which areas will remain unchanged
·         Summarize the changes specifically affecting generating RAPs & Finals
The webinar will also discuss new occurrence codes, and will dive into the new claims submission process.
The WellSky Learning Center requires an up-to-date web browser and supports the current versions of
Google Chrome
,
Mozilla Firefox
or
Microsoft EDGE
.
Internet Connection: 15mbs Download or Better
Exceptions in Pop-Up Blocker for https://learning.wellsky.com